Documentary Photography Art Project
The photos in this post are part of an art project the Art Gallery of Grande Prairie commissioned me to do as part of their Covid-19 community art exhibit, The Curve.
In addition to accepting community art submissions, the Art Gallery commissioned four local artists to contribute to the show, exploring the effects of the pandemic on our local community: painter Tim Heimdal, author Sue Farrel Holler, musician Zachary Kay, and me. What an honour.
This was an interesting project for me, to say the least. I was allowed a lot of freedom to develop a photography project that reflected my point of view on the pandemic. I have long been influenced by documentary photography and chose to use that approach to examine what the closures and social distancing meant for people from different walks of life in the Grande Prairie area.
But the project also meant confronting my own reality a bit. Our own family had been socially distancing for a few months when the gallery reached out, and I realized that the majority of my own work over that time was happening within our own four walls. In fact, I had barely pointed a real camera at another person for several weeks, aside from my own family. I used the compositional framing device of windows to bring this concept to many of the photos. We were all living in (and seeing the world through) our own bubbles.
With the initial "lockdowns" I had pivoted my working life to product photography and taking on some website and branding design projects. And I was really enjoying the opportunity to do something a bit different and learn some more skills. But the slowdown at the early stages of the pandemic forced me to also slow down, and my attention was very focused on just being present at home for our young son and our daily family life.
It took a concerted effort to get out and find people to photograph, and it felt strange: navigating the new normal of masks, unknown social expectations, various comfort levels, and exploring all the ways people were coping. As it became clear, many were doing so in the same way as I was: focusing inward, practicing their passions and learning new things.
This idea of personal development became a major theme in my photographs from the project: Artists working. Gardeners gardening. Musicians playing. People from all walks of life using social media to connect and perform: livestreaming, starting podcasts, or just using video chat to spend time with those they love. Near the end of the project, the Black Lives Matter movement hit Grande Prairie and it was a bit surreal (and inspiring) to document the local protest amidst a pandemic. We were all coping, in our own ways, and much of it was very positive.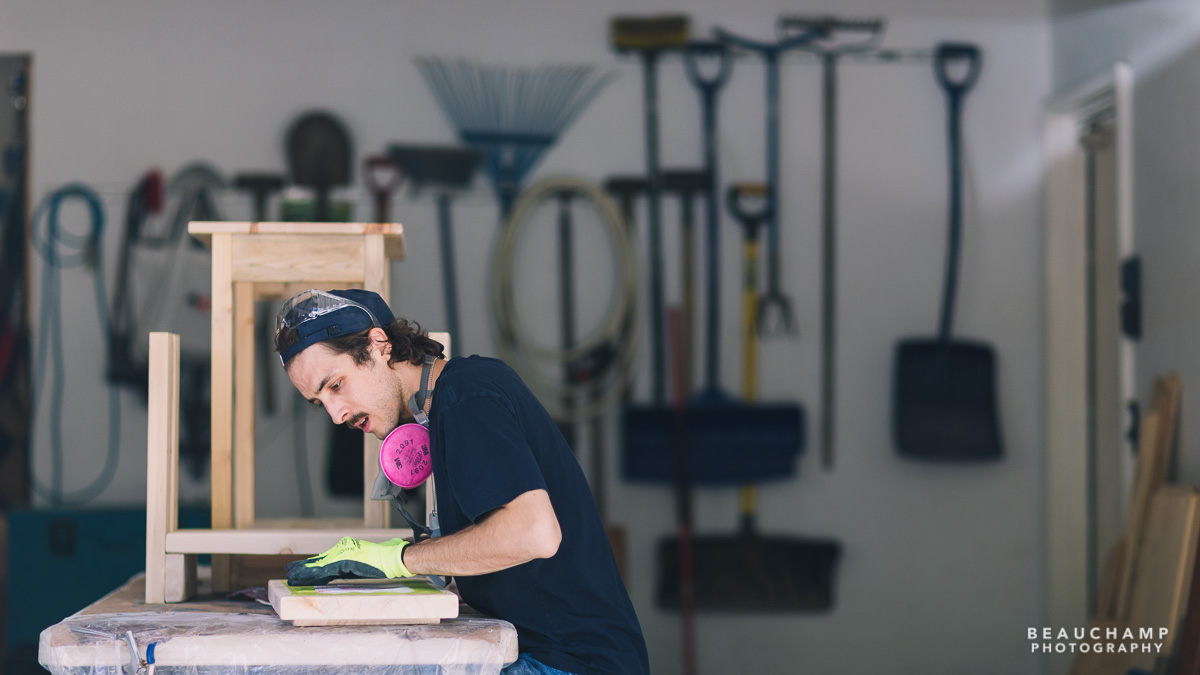 But I also wanted to explore some of the wider realities of the pandemic. Playgrounds closed. Children isolated. Seniors cut off from visitors. Parents juggling work and homeschooling. Businesses shuttered or pivoting to whole new business models–and some not making it. Others, going on exactly as before…
I don't know where the Covid-19 pandemic is going or how it will "end." And I think as the summer has gone on the politics of it all have gotten far more divided. Many are still hurting, and many are still isolated. Others have lost family members or are dealing with long-term medical impacts. Meanwhile, some insist it's a hoax, or at a minimum, is being overblown.
All I can really say is that I hope people can continue to find something positive to take away from it all.
I definitely owe a huge debt of gratitude to the Art Gallery of Grande Prairie for the opportunity. Specifically, I want to thank executive director Jeff Erbach, The Curve curator Sabine Schneider, and preparator Rob Swanson for helping to arrange the exhibition of this work. I also need to thank all of the photo subjects who agreed to participate in this, as well as the businesses and organizations that helped facilitate these shoots.
Thanks for letting me be a part of it.
– Chris Beauchamp
"The Curve is a multi-disciplinary community art installation, exhibited through the summer of 2020 at the Art Gallery of Grande Prairie. It honours those in the Peace Region who passed, who served, and who lived through the largest public health pandemic in generations. The Curve has the power to echo and connect all human experiences. It continued to grow and evolve as pieces were contributed to the overall exhibition."
You can see the exhibit in person at the gallery until the end of September.
I've also been invited to do an artist talk in the gallery on Saturday, Sept 26, at 11am. Due to the pandemic, registration is limited to 10 people. You can register by calling the gallery, and there is a Facebook event for that here.